Curious About Fucking A Midget?
September 1, 2018

Male Domination Fetish
October 21, 2018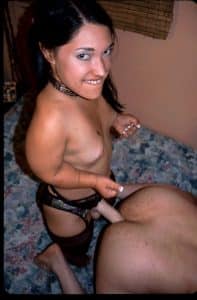 I have to tell you, I absolutely love to suck a thick hard cock.  I can't stop craving the way one stretches my lips, the way my jaw aches while it keeps my mouth spread wide open.  I lick, suck, and kiss on every inch; I love to suck so hard that my cheeks hollow out and look up to see a big man's eyes roll up into the back of his head. My naughty secret is that I love it even more when a man grabs my hair and starts to roughly fuck my small midget mouth.  It makes me feel like I'm being used, that I'm just a warm hole, a cum receptacle….I know I shouldn't like feeling like that, but I can't help it! I want my lips to be rubbed nearly raw, and the back of my throat sore and aching from a cock. I want cum to leak out and cover my lips and chin! Want to do that to me? Call for your midget fetish phonesex!
Vera
1-888-430-2010
Click Here to talk with a phone sex Mommy!
#midgetfetish #blowjobfetish #facefucking